We are located in the Village Shoppes of Sugarloaf shopping center.   (3370 Sugarloaf Parkway, Suite D-5 , next door to H&R Block ) We are open Saturdays and Sundays Noon to 5pm.  Gwinnett Humane Society does not operate a shelter and is not affiliated with Gwinnett Animal Control. GHS receives no government funding; we rely solely on donations from individuals and companies to support our programs and on volunteers who donate their time and energy to carry out our mission.
The best way to contact us is by email at contactus@gwinnetthumane.com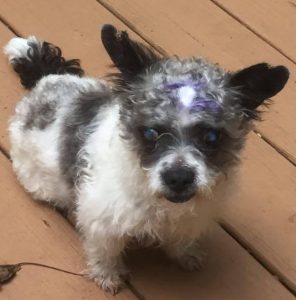 Please help us save Paintball
We are happy to report that Paintball has been resting and regaining his strength.  He will be evaluated next week to determine if he is strong enough for his heart-worm treatment.   We still need to get all of his medical problems taken care of so that he can find a forever home.  Please help us by clicking here to donate.  Please enter "Paintball" in the reference section.  Or you can mail a check to GHS  P.O. Box 750  Lawrenceville, GA 30046. We will keep you updated on Paintball's progress.  Thank you for your support.